Pediatric Dentist vs. General Dentist
At Dakota Pediatric Dentistry, our dentists are specially trained in the field of children's dentistry. That means our dentists have completed two additional years of training beyond dental school. During this time, they learned advanced skills and knowledge in providing dental treatments for children and patients with special needs.
Preventive care is essential to maintain healthy teeth into adulthood. At Dakota Pediatric Dentistry, we offer a full range of preventive treatments, including dental checkups, professional cleanings, and sealants.
Sealants are used to fill in deep pits and fissures in permanent (and sometimes baby) back teeth. They are quick, easy, and noninvasive, sealing the hard-to-reach grooves that the toothbrush can't quite clean. This keeps decay from being able to form cavities in those areas.
The dentist may recommend X-rays as part of your child's regular dental checkup. This is because not all dental issues can be spotted with an oral evaluation alone. At Dakota Pediatric Dentistry, we use digital X-rays, which provide a clearer image and reduced radiation exposure than traditional films. Parents can expect age-appropriate oral health education and expert preventive dental advice at our Fargo office. Call us to book an appointment today.
Our pediatric dental services help to:
Prevent Decay
Encourage Healthy Dental Habits
Diagnose Oral
Health Issues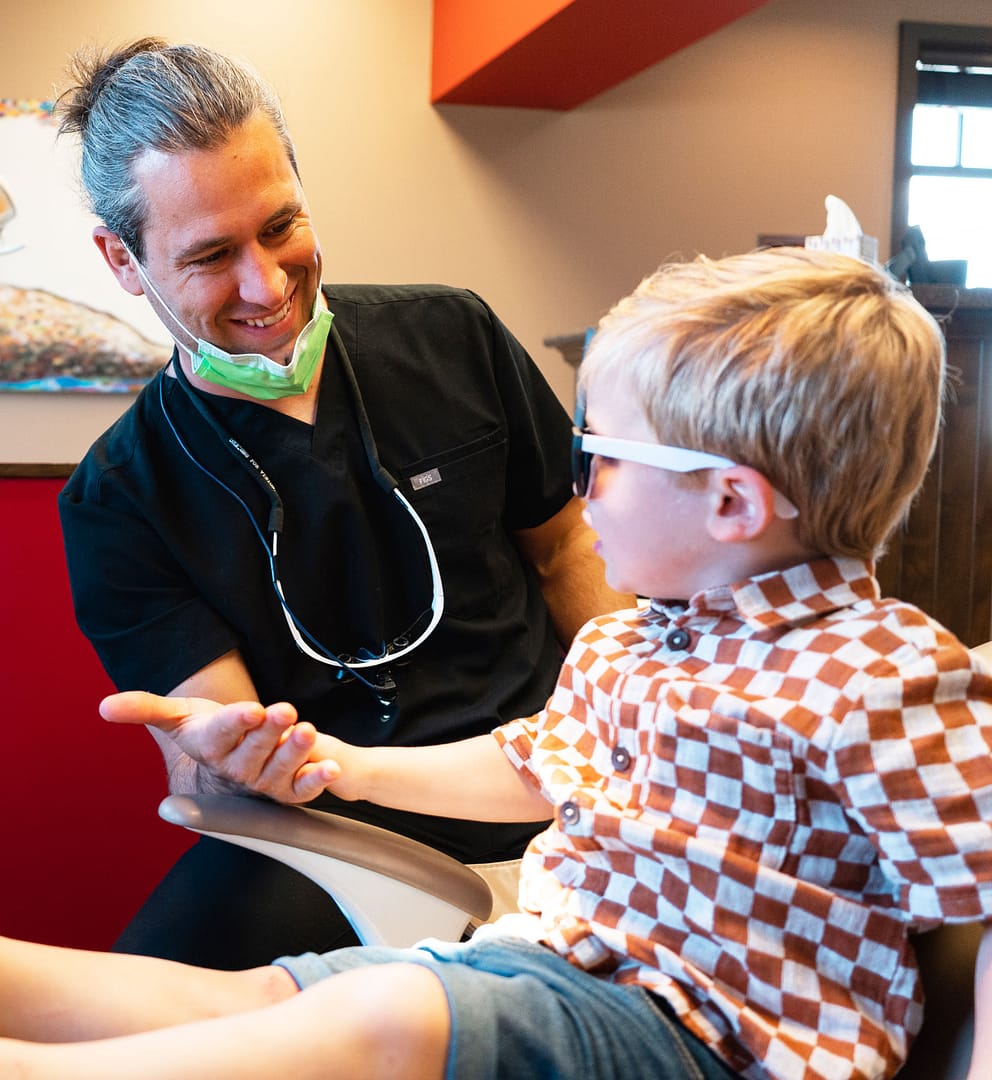 STOPPING DECAY IN ITS TRACKS
When a cavity forms in the enamel, it is necessary to place a filling. This is because decay that breaches the enamel and makes its way into the tooth's soft inner layer is irreversible. Fortunately, this can be easily remedied by removing any existing decay and replacing the compromised enamel with tooth-colored filling material, or composite. This effectively stops the decay in its tracks and prevents further damage.
Dental crowns completely cover a tooth. They are used to strengthen and support a broken or weakened natural tooth. At our Fargo office, we offer two options for dental crowns. First, we provide stainless steel crowns to restore molars where the structural integrity of the tooth is severely compromised. Stainless steel crowns are strong and long-lasting.
Alternatively, we provide cosmetic white crowns made from zirconia, a strong ceramic material. Cosmetic white crowns are color-matched to your child's natural teeth. This means the crown will blend in seamlessly with your child's smile.
RESTORING YOUR CHILD'S TOOTH
The soft, inner pulp of the tooth houses its nerves and blood supply. When the pulp becomes inflamed or infected due to decay or injury, the nerves themselves must be treated. At our Fargo office, we provide pulp therapy for these teeth to resolve the inflammation and restore the tooth.
PROTECTING PRECIOUS, YOUNG TEETH
Mouth guards are an essential accessory when your child starts playing sports or other activities where their mouth, teeth, or jaw could be injured. These include not only contact sports but also some non-contact sports, such as skating or gymnastics, where there is an increased risk of facial injury.
The team at our Fargo office can customize mouth guards for a perfect fit. This means your child's smile will be protected without compromising on comfort. They will be able to talk and breathe normally. Our dentists may suggest a mouth guard for the top teeth only or both the top and bottom teeth depending on your child's needs.
We offer a comprehensive range of dental services for infants, children, and adolescents at our Fargo office.
Orthodontic treatment is available, including aligners, braces, and retainers, as well as early intervention options.
Learn more about orthodontics
A Variety of Payment Options for the Best Possible Dental Care
At Dakota Pediatric Dentistry, we'll work with you to maximize your insurance benefits. We estimate your out-of-pocket expenses and file claims with your insurance company to streamline the process.
We accept cash, checks, Visa, Mastercard, Discover, American Express, and CareCredit.
If you have any questions about payment options or insurance, please contact us.